Facebook has unveiled a raft of new features during its annual F8 conference this week, including a new social VR app.
Facebook Spaces is an app that makes it possible to spend time with friends in virtual reality.
Through the app, which launched in beta on Tuesday, users can create a digital avatar, then chat and interact with friends in VR. Facebook will generate an avatar based on their photos, which you can customise.
During these hangouts, participants can draw with virtual markers, watch 360-degree videos, and call other friends through Messenger.
Messenger gets a bot revamp
Facebook Messenger is adding a new Discover tab accessible from the home screen, offering categories, recently used bots, trending bots, and a search field.
Facebook is also building chat extensions into Messenger, which make it possible for more than one person to interact with a third party app or business at the same time.
For example, Messenger users will now be able to drop songs from Spotify into a thread so that they can all listen to the same track.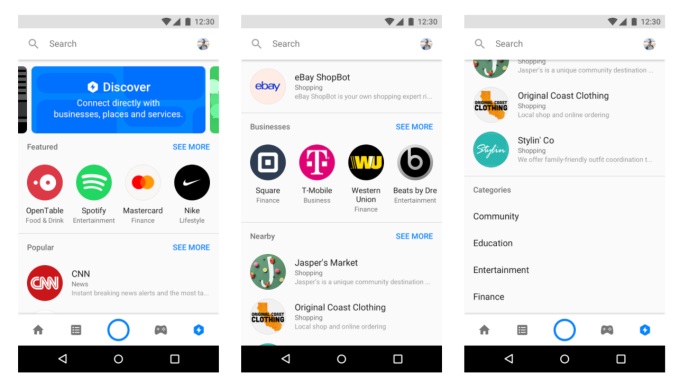 Developer Circles
The new Developer Circles initiative is free and open to any developer, and will function as a forum for collaborating and sharing knowledge.
Local developers will lead each circle by organizing offline events and managing a Facebook Group for that specific region.
The company is pushing it as an opportunity for students and experienced coders alike. Facebook will also partner with Udacity to create custom training programs for Developer Circles.
Brain-human interface
"What if you could type directly from your brain? It sounds impossible, but it's closer than you think," said Regina Dugan at Facebook's F8 conference. Dugan is an ex-DARPA, Motorola and Google executive who Facebook hired last year to lead Building 8.
The human brain is streaming the equivalent of 40 HD movies every second. We only share some of those thoughts as speech, which Dugan describes as essentially a compression algorithm.
Her team is working on new technology that can essentially read your mind using sensors and optical imaging, then translate that information into words.
There are some examples of this type of technology already, but they are slow and require surgical implants. Facebook showed a video of a woman with ALS who, with the help of implants, is able to type eight words a minute without moving her fingers.
"We have a goal of creating a system capable of typing 100 words per minute, five-times faster than you can type on your smartphone, straight from your brain," said Dugan.